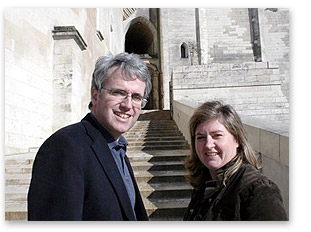 Luxury Tours France was founded by a French couple, Thierry and Karine Micalet, as a branch of their travel agency, Riverloire.
We are dedicated to providing the best way for you to discover our country, heading straight for the right places, which offer the highest level of service.
Based in the Loire Valley, we started 4 years ago by organising luxury stays in this region, with great success.
We progressively extended to other regions, pushed by our clients who wished to experience the same standard of tours and friendly approach they had enjoyed in the Loire Valley. This led us to create Luxury Tours France, which encompasses our best itineraries all over France.
OUR VISION



We are committed to creating tailor-made tours, offering the highest level of comfort and service. We create an itinerary that makes sense, taking into account the duration of your stay and your interests. We only organise private tours, as this is the only way to guarantee the highest quality. We want to offer you a truly local experience, off the beaten track.
WHY CHOOSE LUXURY TOURS FRANCE?
We are French, based in our country, au fait with the best places and hidden gems. We open doors that are normally closed to other visitors.
We are an experienced company, who has worked in the luxury travel business for years. You will have a point of contact for your whole stay in France and we will arrange all the details for you.
We are specialised in welcoming foreign travellers to France, speaking their language and knowing their culture, for a hassle free organisation and trip. Whatever happens in France, we will be there to help you!
We are a fully licensed and registered Travel Agency. Your money is protected by French law.